Album Review: Everything Is Cheaper Than It Looks
This début album from Turnstile Junkpile is recorded proof that retro can be progressive as they have created a piece of timeless quality Americana with strong contemporary lyrics penned by Mat Clark that provoke thought without being pretentious.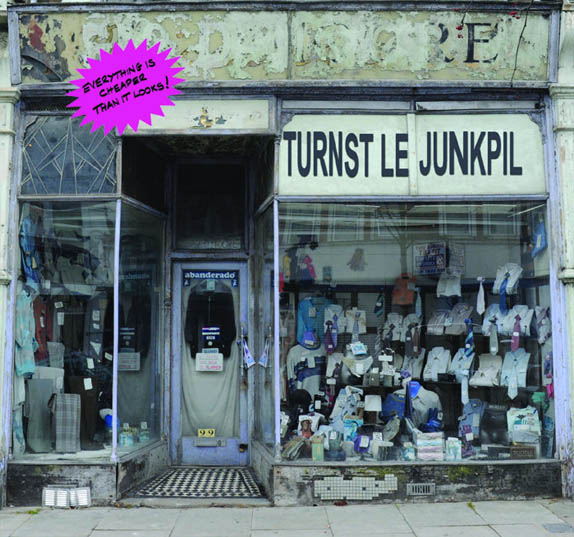 Tracks
Time Is Running Out (03:58)
This Isn't What I Signed Up For (04:33)
Wishing Well (03:41)
How How How (04:51)
Zanzibar (03:32)
In The Morning (04:30)
Everything Is Cheaper Than It Looks (05:06)
The four-piece London based band is led by Mat Clark and capably assisted by colleagues Lawrence McNamara, Ben Sumner and Dave Shaw on the usual array of string and percussion instruments you would expect on an album like this. Banjo and the twin steel sounds of pedal and lap, combined with that of standard guitars will always enhance a recording when played well and there is ample evidence of this being the case on this self-released 7 track album.
'Time is Running Out', creates a mood that belongs in genuine Americana with banjos and guitars and a swinging rhythm with a clear British accent on vocals for a quality up-tempo opener which could be construed as addressing the issue of mortality.
There is definitely more of a rock 'n' roll feel to the second track 'This Isn't What We Signed Up For' especially with some of the guitar solos which assist a song appearing to evaluate a feeling of frustration.
The slower third track, 'Wishing Well' is a country flavoured song which makes comment on those using faith to take short cuts with lyrics including: "You can pray if you want to, but the wishing well is dry. They'll never hear your cries, as hard as you may try" demonstrates the effective use of banjo and steel. It is considered by many as the best track on the album.